Santa Irene forms part of No. 7 wine route, which passes through several villages Lefkosia, Skarinou, Lefkara, Kato Drys, Vavla, Ora, Odou, Farmakas, Gourri, Fikardou and KaloChorio. Make a day trip, via these villages, and come and visit Farmakas and the winery.
Visit Santa Irene winery, take a wine tour or go on a vineyard safari tour ( by appointment only).
Enjoy a meal at our restaurant Ierambelos. Located in the heart of Santa Irene's vineyards, Ierambelos restaurant is all about quality Cypriot fusion cuisine, exceptional wine and good old fashioned hospitality. Our restaurant hosts a renowned Sunday lunch buffet and is open from Thurs-Sunday all day with an ala carte menu.
Stay in our rural Agrotourism houses; Farmakas living a perfect way to experience village life in the mountainous area of Farmakas. Get a glimpse of local culture, history, nature, gastronomy, wine and more. A great option and refreshing change to the summer heat or a cosy journey getaway during the cooler months.
Farmakas' location makes it an ideal place to explore rural Cyprus – A short drive away you could also visit the scenic villages of Gourri, Fikardou (UNESCO world Heritage sites) and Machairas Monastery
Great area for cycling, great trails, impressive landscapes. Cyprus is considered a cyclist's paradise given the excellent weather conditions and absence of strong winds which allow for all year round cycling.
Take a nature and hiking trail and enjoy the beautiful, unspoiled, breathtaking views of the majestic rugged mountain range and countryside and become one with nature.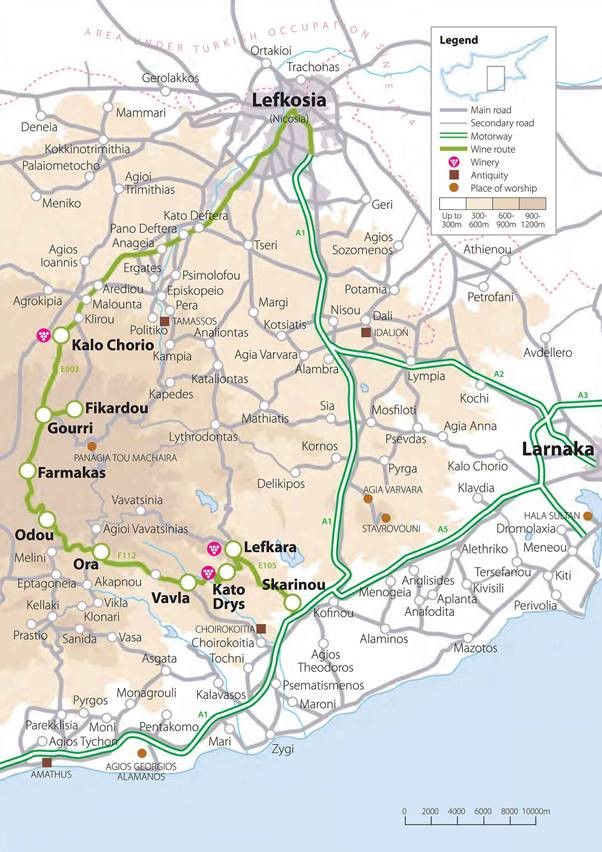 Distance and Travelling times in and around Farmakas (by car):
Kampi 1.5km (5 mins)
Apliki 6.2km (13 mins)
Gourri 7.2km (13min)
Fikardou 9.9km (19min)
Machaira Monastery 16km (32min)
Paleochori 9.4km (17mins)
Agros 22.3km (32 mins)
Nicosia 35km (40min
Limassol 45km (50min)
Larnaca 55km (70 min)
Pafos 110km (90min)