IT'S ALL ABOUT
The Family Legacy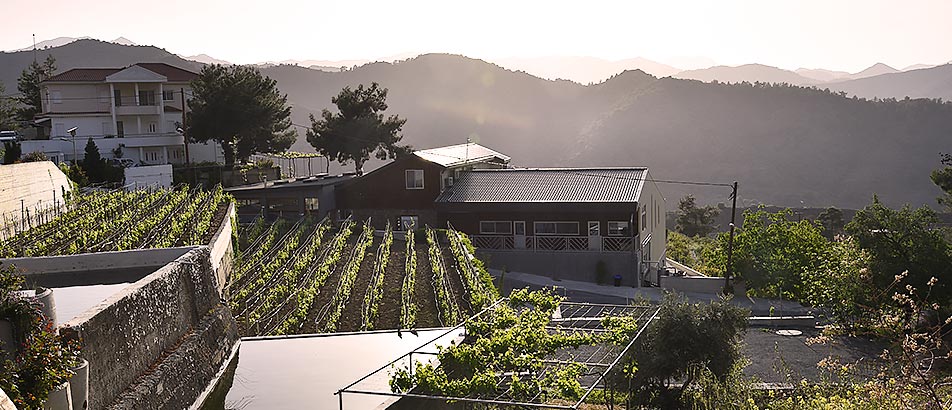 Daniel and Theoni restarted the ancient craft of growing vines and making wine in Farmakas in 2015, stirring life again on the mountain. The sheer beauty of the wild countryside is breathtaking and awe inspiring. Perched precariously on the slopes of the mountains above the village, the vines of Farmakas are easily amongst the highest in Cyprus and some of the oldest: their roots burrow deep into the slopes of the earth and were planted 150 years ago.
Daniel and Theoni have designed and built a small modern winery in the village as well as established a high end restaurant to compliment wine tasters and people seeking to get away or meander into the coolness of the mountain regions. Their objective has been the promotion of Cypriot wine and the education of the wine tradition, they have tended the vines specifically in the Pitsilia region, the high mountains that surround the village. Daniel and Theoni started their wine journey by revitalising their own vineyards slowly and steadily but noticed that many of the vines in the area had been neglected, this was due to the fact that the old generation could not tend to them and the young had relocated to cities and parts of Europe.
The vines grown in the area are of great value as they would produce wines that were different because of the age of the vines and the high altitude, this is the key to the success of Santa Irene Winery. The winery now cultivates many of the vines and land that once had fallen to ruin.
Daniel and Theoni's vision is to offer wine of the finest quality while continuing to highlight the strength of the Cypriot grape varieties and tradition.